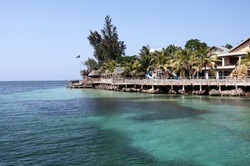 From West Bay simply walk toward the pirate flag which flies every day we are open and can be seen from all of West Bay. A scenic walk down the beach past Foster's onto the wooden boardwalk leads you to Roatan's most memorable restaurant dinning experience. If you are staying at Infinity Bay just ask the Infinity Bay boat taxi to take you to

Bite on the Beach

Hours: We are open 12:00-9:00pm Tuesday-Saturday

Extended bar hours


---
---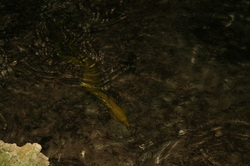 At Bite on the Beach we are visited every night by our family or resident giant green moray eels. While the eels are the nightly star of the show a wide variety of resident sea creatures come to visit each night. Some of our daily guests include, octopi, box fish, barracuda, and small groups of Caribbean reef squid.
---
---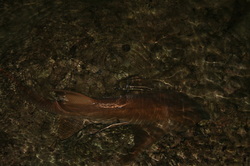 Some evenings the show belongs to our seven foot nurse shark or a giant spotted eagle ray. Truly you never know who will join you and our eels for dinner.
---
The All New Bite on the Beach will begin a new era for this West Bay Landmark. Renovations, remodeling, and a revitalization of the Bite started late this summer in preparation for the up coming season. Come visit us in 2017 and see the wonderful rebirth of the West Bay legend that is The BITE on the BEACH. All the same great food and chef but with a fresh flare and ambiance.